This article contains affiliate links, which means I may receive a small commission, at no extra cost to you, when you make a purchase!
Who wouldn't mind an extra $300 a month? Certainly not me!
An awesome way to do that is by signing up on surveys.
Surveys won't make you rich but if you sign up to a couple of them, you'll be able to pay a few bills here and there. And that definitely makes a difference in the world we are living in today.
There are many survey sites online and more are coming up. Big companies like Amazon, Walmart, Sony, etc are looking to get different opinions from people so that they can improve their products.
In this era where companies can be called out by anyone on social media, creating products that are awesome is a must. That's why your opinion is key.
Some of the survey sites pay you in gift cards and e-certificates but most of my readers want to get paid in cold hard cash.
In this blog post, we'll be taking a look at the survey sites that pay you in cash, either by PayPal or direct to bank.
By the way, I could easily have titled this blog post: 80 survey sites that pay via Paypal but the truth is, some of those survey sites that you will find, even in reputable WAH blogs, aren't really in the straight and narrow.
Some of em' have weird terms in their terms and conditions page, refuse to pay their participants, among other issues.
I've also not included sites that are more like clearinghouses. Those are big survey sites that simply link you with other survey sites.
The purpose of this blog post is to provide you with quality over quantity-quality survey sites that can help you earn that extra income that you so desire.
Here goes!
1.  Swagbucks
Swagbucks is an awesome site that can earn you money when you take part in a variety of their activities like taking surveys, playing games, completing trial offers and even using the Swagbucks search engine.
Swagbucks surveys usually take between 3 to 20 minutes to complete, and this will earn you around 40-100 SBs depending on the survey. 100 SBs equates to one dollar.
They also have a free $5 sign up bonus for all new members.
Click here to sign up and get your free $5 sign up bonus!
2.  Vindale Research
Vindale Research can earn you cash when you take part in answering interesting surveys, ranging from home improvement, politics, technology, sports and more. 
And what's exciting is that you can earn a dollar just for signing up! 
Expect to earn between $0.25 to $50, depending on the nature of the surveys. You can redeem your earnings via check or get PayPal cash. 
Vindale Research accepts members from the US, UK, Canada, and Australia.
Share your unique opinion and get paid for it! Product Developers are willing to pay reviewers between $5 and $75 per completed survey.
3.  Survey Junkie
Survey Junkie has over 3 million members and 13 years of experience in the survey industry.
You'll typically get paid between $1 to $3 per survey but occasionally, you might get lucky and find high-paying surveys offering a cool $50!
The only complaint that Survey Junkie members have is that there aren't enough surveys on the site. So, be prepared to get at least one survey per week. 
The site has a payout threshold of only $10 and you earn points the minute you confirm your email!
The site is open to members living in the US, UK, Australia, Canada or New Zealand.
Sign up for Survey Junkie and start earning today!
4.  Pinecone Research
Pinecone Research is a reputable survey site, run by Nielsen (a top market research company) and not only will they send you surveys to complete but will occasionally also send you products to test.
Applicants allowed are those in the US, UK, Canada, or Germany.
If you're based in Canada, here's your sign up link.
If you're based in the UK, here's the sign-up link. 
Sign up here if you're based in the US and aged between 18-24.
5.  My Points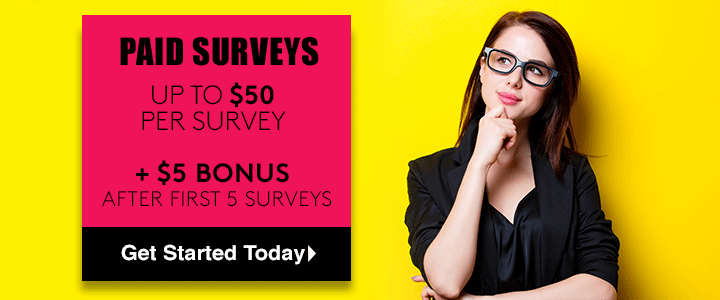 MyPoints is another great site where you can earn money for taking surveys, playing games, watching videos and more. Membership is open to people living in the US and Canada.
You need to have at least 700 points to redeem your rewards for cash or other offers. The rewards are three namely: gift cards, travel miles that can be transferred to your United MileagePlus account, or a direct deposit to your Visa card or PayPal account. 
You can get paid up to $50 per survey.
An advantage to completing surveys on MyPoints is that even if you get screened out of a survey before completion, MyPoints will give you some points for the time you had invested in filling out the survey.
Sign up for MyPoints and start earning today!
6. Branded Surveys
Branded Surveys (formally Mintvine) is another survey site worth checking out. You can redeem your reward (once it reaches 1000 points – which is equal to $10) to PayPal or you can redeem the points as gift cards.
They also have fewer surveys but allow people living in the US, UK, and Canada to participate.
7.  Toluna

Influencers
Toluna boasts of having clients such as CNN, Fox, Sony, Amazon, Deloitte, Hulu among others.
Surveys typically last between 15 to 20 minutes.
You receive rewards in form of points which you can then redeem for gift cards or cash.
There's a threshold of 60,000 points for you to redeem your points though. 
Click here to sign up for Toluna Influencers today!
8. YouGov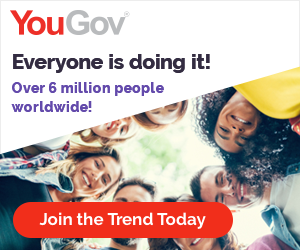 YouGov is one of the world's leading market research and data analytics firm.
It currently has six million members worldwide.
The site offers surveys more frequently than other survey sites but on average, that should be between 5-7 surveys weekly.
Most of the surveys are politically focused but you can get surveys on general topics as well. 
To get a cash reward from YouGov, you'll need to get a minimum of 5000 points, which is equal to £50 which you can then cash out via PayPal or prepaid cards.
Other rewards include gift cards, mobile credits. Currently, membership is open to people residing in Japan, Russia, UK, US, India, Australia, Canada, Egypt, UAE, China, France, Finland, Germany, Sweden, Netherlands, Brazil, Mexico, Denmark, and Norway. 
Click here to join the trend on YouGov and start earning today!
9.  Opinion Outpost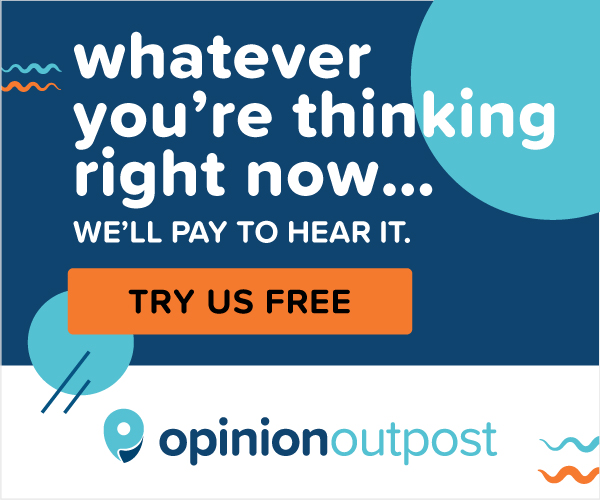 Thankfully, with Opinion Outpost, you don't have to wait weeks to get your cash. Your money can be transferred immediately and if it takes some time, you'll only have to wait for a few hours.
Once you have gained 100 points (which is equivalent to $10) you can redeem it. That's a low cash limit compared to other sites. 
Another pro to this site is that there are plenty of surveys to choose from.
Get started with Opinion Outpost right now!
10.  One Opinion
OneOpinion members can expect to earn $1 to $5 per survey. Very rarely, you might stumble upon a survey that pays up to $15. 
Apart from surveys, you can also get a chance to do product testing. Surveys are sent to your email although you can also log in to the site and find them on the dashboard.
Once you have gained 25,000 points, you can redeem the points either as a $25 Visa Debit Card, as a virtual gift card or as cold hard cash to your PayPal account.
Membership is open to people residing in the US, France, Italy, Australia, Canada, Germany, the Netherlands, or the UK.
Click here to sign up for One Opinion.
Here's the sign-up link if you're based in the UK. 
11.  Ipsos Survey
The Ipsos survey site was formed way back in 1975 and is one of the largest market research firms. Like other survey sites, when you complete surveys, you get paid  in points, which you can later redeem for several gifts such as:
$5 Starbucks card which equates to 500 points.

$10 Amazon Gift Card which equates to 1,000 points.

$15 Target Gift Card which equates to 1,500 points.
And other gifts. 
The surveys can pay as little as $0.45 and sometimes as much as $2. The main complaint from the site members is that the surveys are way too few. 
You can also redeem your points for cash, via PayPal. You need to have accumulated 1000 points which gives you $10.
There's a waiting period of between 1-3 weeks to get your payment though. 
12. Prize Rebel
Prize Rebel was formed in 2007 and the company has so far paid out more than $16 million. The site is reputable and has good reviews online and currently has 7.5 million members.
The great thing about Prize Rebel is that there are plenty of surveys to choose them.
Once you have earned at least 500 points, which is equal to $5, you can withdraw that money directly to your PayPal account. You can also redeem your points via gift cards or direct to bank.
13.  Fusion Cash
Fusion Cash is one of those GPT sites  (get paid to) where you can earn money by playing games, doing internet searches, completing surveys and more stuff. 
The site is open to people who live in the US or Canada and you need to be 18 years or older. What's exciting too is you can get $5 just for signing up!
The surveys aren't as many as in the previous site mentioned but when they are available, an email will be sent to your inbox.  Surveys are also posted on the dashboard. You can then cash out via check, direct deposit or PayPal.
14. Global Test Market
This is a highly reputable site that was founded in 1999 and that accepts applicants from 200 different countries.
It's one of the few survey sites that has a good number of surveys to complete.
The payment options include PayPal, checks and gift cards.
Sign up for Global Test Market and start earning!
15.  Survey Savvy
Here is a survey site where you can expect to earn between $.50 to $2.50 per survey. Surveys will typically take 10-30 minutes to complete.
The only payout option is via check and you can expect to receive your payment within 4-12 weeks after withdrawal.
The long waiting time is a common complaint among members.
This isn't your usual survey site because unlike the normal surveys you get in many survey sites, on Mindswarms you'll take part in mobile video surveys.
They pay $50 to answer 7 questions or $10 to answer 1 question. Payments are sent 24 hours after successful survey completion to your PayPal account.
The key to qualifying for a  good number of surveys is by creating an awesome video for your profile, during the application process.
Prolific Academic is very different from general survey sites. Researchers usually from across universities in different parts of the world will post their studies or tasks on the website.
The advantage to this is that the surveys are therefore more interesting and of a wide variety than other survey sites out there.
Once you have completed the study, the researchers will review it to see if they will accept it or not.
This usually takes between 1 to 3 days. Expect to earn at least £1.25 for a 15-minute survey. The minimum amount you will need in order to cash out is £5.
The company was founded in 2012 and currently operates in the US, UK, Australia, and Canada. It has a very good reputation online. Apart from taking surveys, you can also get paid to search. 
You can take Qmee surveys on your laptop or on mobile.
The surveys don't pay much – usually around 50 cents for a survey that will take you 15-25 minutes.
The money you can earn per search ranges from $.05 to $1 per click. 
The wonderful thing about QMee is that you can withdraw your cash (not points) instantly to your PayPal account no matter how small the amount. 
Conclusion
Surveys provide an easy way of earning extra cash.
With the continual need that businesses now have to get data that will help improve their products and services, an opportunity to earn some money from the comfort of your home is presented.
As you have previously seen, some survey sites have very few surveys, while others have a high payout threshold.
It is therefore wise to sign up to a number of survey sites in order to earn some good money. 
Apart from surveys though, you will also want to check out these other ways of earning money online from home:
In the meantime, sign up for on a couple of surveys sites above and enjoy that side income!