This article contains affiliate links, which means I may receive a small commission, at no extra cost to you, when you make a purchase!
Have you ever wanted to purchase something but found that you had no funds in your PayPal account?
Or you probably just need some easy and QUICK money to pay some small bills.
Thing is, we often talk about how you need to be patient if you want to make money online. And yes, it's going to take blood, sweat and tears to make a good income from your online hustle.
But today, we're not going to focus on the bloody, sweaty and teary aspects of earning an income online. Today, we're talking about 10 ways that YOU can get FREE money doing almost nothing!
Let's do this…
1.Swagbucks
Swagbucks is one of the many 'GET PAID TO' sites that can help you earn extra money on the side.
With Swagbucks, you can get paid to watch videos, shop, search and take surveys.
Users earn up to $300 per month, and there's a variety of tasks that members can complete.
Not only can you make money doing those small tasks, Swagbucks also gives you $10 just for signing up.
Sign up with Swagbucks and get your free $10 bonus today!
2.Nielsen Computer & Mobile Panel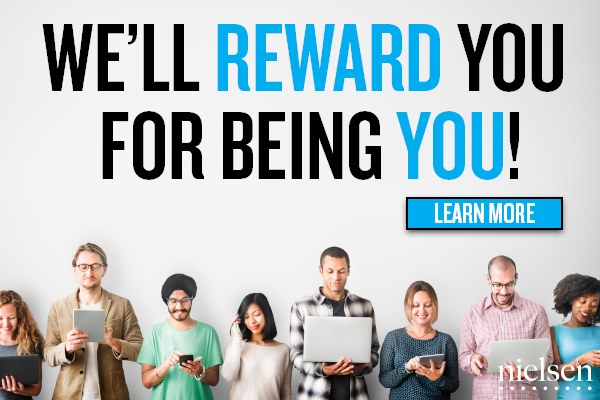 Wouldn't it be cool if you got a free $50 out of nowhere?
Except it won't be out of nowhere.
The Nielsen Computer and Mobile Panel will send you $50 every year, if you install the Nielsen app and KEEP IT on your internet browsing devices.
Nielsen helps companies better understand how consumers work by collecting statistics on how you use the internet.
Simply create an account and register your mobile.
It's an interesting way of earning a FREE $50 just for using your mobile phone.
Click here to sign up for the Nielsen App and get your $50 today!
3. MyPoints
MyPoints is a website that rewards members for:
Watching videos.
Taking part in paid online surveys.
Playing games.
Earn points when you shop in over 1,900 retailers, when you read email, when you watch videos, and when you answer market research surveys.
Redeem the points you earn for cash via PayPal or gift-cards. You can also redeem the points for travel miles.
Sign up here and get a $10 Amazon gift today!
4. Rakuten
Who or what is Rakuten?
Rakuten is a company that gives you cashback for shopping through their affiliated stores such as Macy's, Dell, Sephora, Walmart, and many, many more.
You can earn up to 40% cash back on the platform.
Wondering how the company is able to give such juicy cash- backs? It's because companies pay Rakuten a commission for sending customers like you, to shop at their stores.
In turn, Rakuten splits the commission 50/50 with you in the form of cash back!
Shopping at Rakuten is as simple as searching for the store you want, buying the product you desire and then waiting for the percentage of your purchase to show up in your account.
The cashback usually takes seven days to show up.
When it comes to getting paid, Rakuten requires that you have a minimum of $5.
Another way to make money with Rakuten is via referrals. Rakuten pays you $25 for every person you refer who makes a $25 purchase. Not bad huh?
Click here to sign up with Rakuten and get your $10 bonus!
5. Vindale Research
Vindale Research is an online survey panel available for members based in USA, UK and Canada.
It currently has a great rating of 8.1 on Trust Pilot.
The main money making activity on Vindale Research is completing surveys. Vindale Research pays really well for surveys, up to $75.
They also have a sign up bonus of $1.
Click here to sign up on Vindale Research now!
6. Ibotta
Ibotta is an app that, just like Rakuten, lets you earn cash back for products that you have purchased. You can sign up and get $10 today!
You can get cash back on stuff like eggs, cosmetics, milk, beer, apparel and more.
Rakuten has been around way longer than Ibotta and therefore has more stores affiliated with it than Ibotta.
Still, it is possible to make up to $1,000 a year with Ibotta, if you are an active shopper.
7. Inbox Dollars
On this site, you earn money by watching TV, shopping and taking surveys.
Earn money watching different videos, such as cooking videos, celebrity interviews and more.
InboxDollars can also pay you to read emails.
If you're ready to do this and make a little bit of extra money, click here to register and get a $5 bonus!
8.Dosh
Dosh is a relatively new cash back app, but it's becoming increasingly popular.
Get cash back when you shop, when you dine out or when you pump gas.
It is a reputable app, with a 4.6 rating in the Google Play Store and one that even got big boys like PayPal to invest $44 million in the startup.
Some users have reported earning as much as $200 in cashback within 9 months.
Connect your debit or credit card to the app and get an easy $5! Get $10 if you refer a friend.
9. BeFrugal
BeFrugal is a cashback site, similar to Rakuten and was founded in 2009. On this platform, you get paid to shop and the site gives you up to 40% cashback at 5000 stores!
Once you have earned money with BeFrugal, they will send you your earnings via PayPal, direct deposit, check or gift card.
So how do you get FREE money with BeFrugal?
Simple. Sign up and get a cool $10 for free!
The internet offers countless ways to make money online from the comfort of your home.
Most of the time these ways will need some skill from you. The ways I have mentioned above require no skill.
So sign up for the opportunities above. It's yours for the taking!
10. Shoptracker
ShopTracker is a company that keeps track of how you shop and specifically, what you buy on Amazon.
To put it better, ShopTracker will pay you for allowing them to check your shopping habits.
Companies pay ShopTracker for this information so that they can use it for their marketing plans and for product development.
So how do you get FREE money from ShopTracker?
Pretty simple.
It's as easy as signing up for the program and getting a cool $3! You'll also get an additional $3 every month after filling out a survey. That's a total of $39 in 12 months, just like that!
If you are worried about ShopTracker using your information carelessly, you need to know two things:
Other than your purchase history, your personal information is masked and is never saved by ShopTracker – your shipping address, your name, and payment information are safe.
ShopTracker is a legit company and has been around since 1997. It is highly unlikely that they are into that kind of fishy business.
Another pro to signing up with ShopTracker is that the program allows up to three Amazon accounts per household.
Think about that. That's a good $108 per year for registering three accounts.
PS: Your Amazon account should be at least 30 days old for you to qualify for the ShopTracker program.
Click here to sign up for ShopTracker and get a cool $3 just like that!