This article contains affiliate links, which means I may receive a small commission, at no extra cost to you, when you make a purchase!
FlexJobs is a top resource offering the best work at home jobs to suit your online needs. They've been publishing top 100 companies with work at home jobs for the past five years. And, this year is no different. They recently released their 100 Top Companies with Remote Jobs.
Before looking at the jobs, let's have a look at the top career fields for work at home jobs that FlexJobs identified:
Make An Extra $600/Month From Home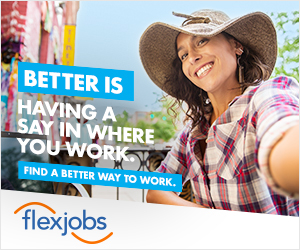 Top 100 Companies with Work At Home Jobs
And there you have it. A complete list of top 100 companies offering work at home jobs. Your search shouldn't end here.
Head over to FlexJobs and find even more remote jobs. They have full-time work from home jobs, part-time work at home jobs, entry level work at home jobs and even work from home jobs with no experience.
Make An Extra $600/Month From Home